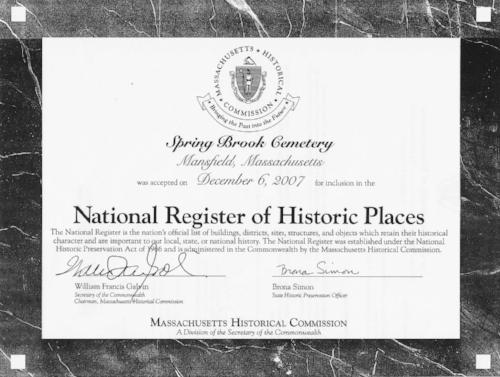 On December 6, 2007 Spring Brook Cemetery was accepted for inclusion in the National Register of Historic Places.
Narrative Statement of Significance
Spring Brook Cemetery in Mansfield, retains integrity of location, design, setting, materials, workmanship, feeling, and association, and is eligible for listing on the National Register of Historic Places under Criteria A and C at the local level. Areas of significance include art, social history, and community planning and development. Criterion consideration D applies to this cemetery. The period of significance extends from ca. 1790 to 1957.

Under Criterion A, Spring Brook Cemetery is significant as land that has been used as a burial ground since the late l8th century. When it was formally organized in 1860 as a private, nondenominational cemetery, it contained just four acres but in the late 19th and 20th century additional acreage was acquired from multiple landowners. Spring Brook currently contains twenty-two acres, making it the largest cemetery in the town of Mansfield. As it grew, the cemetery maintained its gridded, rectilinear, design even when picturesque and romantic landscape influences gained popularity nationally during the mid to late 19th century. The greater use of the burial ground in the mid to late 19th century reflects the growth, and development of Mansfield during this period as the town evolved into an industrial and railroad center. Many of the industrialists responsible for this transformation are buried in Spring Brook Cemetery. The collection of marble, cast metal, and granite markers helps to tell the story of the town's past, and provides a visual history of its citizens and families over more than two centuries. There are 3,400 plots within the cemetery; the number of graves is not known.

Under Criterion C, Spring Brook Cemetery contains a diverse and large collection of gravestone art as well as the architecturally significant Card Memorial Chapel, a Romanesque Revival and Victorian Gothic building constructed in 1898 according to designs by architect Charles H. Eastman. The earliest gravestones in the cemetery include simple marble markers and a single slate marker with willow and urn. There are also a number of obelisks of marble, granite, and brownstone, and monuments made of cast zinc, as well as later granite tablets. Within the cemetery's rectilinear grid, family plots predominate. The cemetery is still in use with most present-day burials occurring in the more densely gridded western sections. Plots are still available for sale.

What is now the town of Mansfield was originally a district in the town of Norton. It was made a separate town in 1775. Originally a rural farming community with small factories along the rivers, the arrival of the Boston & Providence Railroad in 1835 made Mansfield a convenient location for heavy industry in the late 19th and early 20th century. The town also became an important railroad center as it was the location where the main line divided into two important branches -the Old Colony Railroad to Taunton and points south, and the Mansfield & Framingham Railroad with destinations to the north. Among the products made in Mansfield were straw bonnets, baskets, cutlery, taps and dies, stoves and furnaces, jewelry, and shoes. Many of the industrialists responsible for the Town of Mansfield's economic growth in the 19th and 20th centuries are buried in Spring Brook Cemetery. These include Gardner Chilson (d. 1877) (map # 16, photo #5), a designer of stoves and furnaces; tap and die manufacturer Simon W. Card (d.1899, map#21, photo #4): John Rogers (map #15, photo #3), David Harding (map # 17), and Charles and George Mowry (map # l 3, photo #3) who all made their money in straw bonnets; and George Wilcox (map #14) who owned the local cutlery shops.

The early history of the cemetery remains somewhat unclear. The earliest grave in the cemetery dates to 1790 (Dean Family Marker. map #10), and there are more than sixty graves that predate 1850. It has been suggested that the cemetery may have originally served as a predominantly Congregational cemetery, although this could not be substantiated.
Although there are a number of early 19th century stones in the cemetery, the earliest reference found for what became Spring Brook Cemetery appears in an April 1860 deed in which for $350 Lewis Holmes, yeoman, sold the Trustees of the Mansfield Cemetery a tract of land containing four acres and thirteen rods "for a cemetery.'' The land is described as being on the north side of the road leading from "Morse's Factory to Stillman Drake's", apparently a reference to the present Spring Street. The cemetery trustees are listed as Enright Day, Ellis Fairbanks, and Isaac Briggs (Bristol County Book 252, Page 227). The 1871 Beers map of Mansfield shows that at that time the cemetery consisted of a smallish rectangular plot of land on the north side of Spring Street. This would appear to be what is now the southeast corner of the cemetery - bounded on the north by Pleasant Avenue and on the south by Broadway, west by Vernon Avenue, and east by Willow Avenue.
Deed records indicate that the Mansfield Spring Brook Cemetery Association trustees acquired additional acreage in 1872. Nathaniel Cook sold the trustees three acres of land for $600 (Book 323, Page 288). The same year the trustees paid Susan Hodges $216 for an adjacent parcel of land measuring 57' x 545' or 0.72 acre (Book 323, Page 443). A small 40' x 203' (0.18 acre) parcel was purchased from Daniel Dean in 1874 for $37.35 (Book338, Page 219).
Another piece of land (l acre and 28 square rods) was bought from Daniel Dean in 1886 (Book 438, Page 458). A receiving tomb was constructed at the southeast comer of the cemetery in 1889. In 1894 Elijah Copeland was paid $1,025 for roughly an acre of land with buildings "on the south side of a contemplated street running from Dean to School Street," apparently the present Coral Street. (Book 515, Page 446). The buildings are not described, but it is possible that one of them served as a caretaker's cottage.

The focal point of the cemetery, the Card Memorial Chapel (map #4, photo #1), was constructed in 1898. The chapel was built by local manufacturer Simon Card and his wife, Mary J. Card, as a tribute to their only child, Mary Lewis ("Lulu'') Card, who died at the age of 30 years and 7 months in June 1896. The chapel was presented to the Mansfield Spring Brook Cemetery Association "to stand, not only as a memorial to perpetuate the memory of the accomplished and lamented daughter, but as a perpetual reminder of the thoughtful public beneficence of the parents", (Mansfield News, May 1898). The chapel was dedicated on June 11, 1898. It was intended to be for the use of all faiths. A Baptist minister gave the dedication speech.
Simon Card, a machinist from Killingly, Connecticut, had founded the tap and die industry in Mansfield in 1874. All members of the Card family were involved in the business. Mrs. Card assisted by tempering the dies in hot oil in her kitchen stove. Their only child, Lulu, worked as an accountant for her father. The S.W. Card Manufacturing was located at the present site of the Milhaus Apartment complex on Rumford Avenue in Mansfield. Simon, Mary and Lulu Card are all buried in Lot 66 at Spring Brook Cemetery (map #221, photo #4). The inscription on Lulu's stone reads " Her sun is gone down while it was yet day. "
Three additional parcels of land were added to the cemetery in 1900, including 1.7 acres from Susan Fuller (Book 559, Page 239); two acres from Edward Hodges (Book 559, Page239); and an adjacent parcel owned by Isaac Hodges (Book 559, Page 238).
In 190l the Mansfield Spring Brook Cemetery Corporation was formally incorporated "to hold and control for burial and cemetery purposes" (Incorporation papers). In July, the three current trustees, David Harding, S. Emmons Scholes, and Elbridge Sherman, transferred ownership of the lands of the Mansfield Spring Brook Association to the newly-formed Mansfield Spring Brook Cemetery Corporation (Book 567, Page 453). According to the deed, the cemetery then extended from the north side of Spring Street to Coral Street. A set of 1909 regulations contained in the records of the corporation give additional insight into the workings of the turn-of-the-century cemetery. Rapid driving or driving on the grass was not allowed. Horses were to be tied to a hitching post, unless controlled by a competent person. Any bodies deposited in the receiving tomb between November 1st and May 1st were to be removed by May 15th. Between May 1 and November 1 there was a five day limit for use of the tomb. In 1914 lot owners could pay 35 cents an hour for cemetery labor, including weeding (Trustee records).
The cemetery continued to see various improvements in the early 20th century. In 1911 a tool house was built on the property (no longer extant). Additional land was also acquired. In April 1913 the trustees voted to purchase the "Fuller lot'' from Susan C. Edwards (Book 679/Page 89). The 1.2acre parcel was located on the east side of School Street, adjacent to the School House lot.
After the Roland Green School burned down in 1923, the Cemetery Corporation also acquired the school lot. (The Green School was built on School Street in 1887 by Lewis Packard). In 1925 the trustees made plans to lay out the new land at the corner of Coral and School Streets into lots. A second tool shed was constructed in 1925 (also no longer extant). In 1929 the Cemetery Corporation purchased the former King property, including land on both sides of School Street (Book 792, Page 111). (The land on the west side of School Street was sold in 1952.) The concrete driveway in front of the chapel was installed in 1932. ln 1933 cemetery employees were asked to remove stones from the old school cellar wall in their spare time and save them to use as foundations for gravestones. ln 1944 a new north-south avenue was laid out in the western portion of the cemetery; it was named Elm Avenue. The roads in the cemetery were first asphalted in 1948.
In l957 the gate at the cemetery entrance was widened. Other initiatives included limiting the size of monuments in the new section of Coral Street lots, and prohibiting the installation of marble markers in new sections. Pin oak trees were planted along Spring Street and the newer sections of the cemetery. Also in 1957, additional land was purchased from Clifford Turner (Book 1260, Page 163) and others (Book 125S, Page 160; Book 12S6, Page 74). One of these transactions appears to be what is now Map 26, Lot 43. In 1961 another north-south avenue was laid out parallel to Elm and named Morse Avenue after Harold Morse who served as superintendent and treasurer for over a decade. In l969 a new curved street named Hewitt Avenue was laid out in the double grave section near the old Green School site.
In 1988 a new prefabricated ''Morton" metal building was constructed near School Street and the old shed and garage were demolished. In 2001 the house at 88 SchoolStreet which-bad been owned by the Corporation for many years, was sold to Steven Thibodeau (see Assessors Map 26, Lot 41).

Today, the Spring Brook Cemetery includes approximately 3,400 plots on 22 acres. The number of graves is not known. It is still in use and there are lots available for purchase. Burials occur primarily in the newer, more densely plotted sections along the west side of the cemetery. The cemetery is overseen by a board of directors as a non-profit organization
Other Mansfield Cemeteries:
Spring Brook Cemetery is the largest cemetery in the town of Mansfield. It is unique because it is nondenominational and private. The Old Town Cemetery near the common includes graves ranging from the 1740s to the 1890s. Toe East Mansfield Cemetery has less than 200 graves, many of which date to the late 18th and early 19th century. There are also a number of family burial grounds in town which are much smaller and contain older monuments than are seen at Spring Brook. Among the family cemeteries are the Codding Family Burial Ground, The Ephraim Leonard Cemetery at East and Ephriam Streets, the Deane family Cemetery on [Fruit] Street, the Drake Cemetery on Bird Road, the Fisher Richardson Cemetery on Geneva Street, and the Sweet Cemetery on Gilbert Street in West Mansfield. St. Mary's Cemetery, affiliated with St. Mary's Church, was created out of a barren potato field at the corner of East and Franklin Streets in the 1890s.
The Architect of Card Memorial: Charles H. Eastman
The designer of the chapel was Boston architect Charles H. Eastman, who was also Miss Card's fiancee at the time of her death. Eastman was born in Maine in October 1861 (1900 Census). It is not known where be received his architectural training. In June 1896 Miss Card accompanied her father on a fishing trip to Canada and became fatally ill. Eastman and Mrs. Card rushed from Mansfield to Canada to be with her but arrived after her death (Mansfield News, June 19, 1896). Mansfield directories indicate that after Miss Card's death, Eastman was boarding at the Card residence on Pleasant Street from l898 until 1906. During this period he is listed as an architect working in Boston.
According to Boston City directories, Eastman partnered with John C. Spofford (Spofford & Eastman) off and on between 1885 until 1907. Spofford (1854-?) was also from Maine. Spofford began his career in the office of Henry Preston and later worked in the firm of Sturgis & Brigham, eventually as Brigham's partner from 1888 to 1905 according to one source (Rettig). Another source indicates that Spofford was practicing alone after 1892 (Withey), Buildings that Spofford & Eastman designed include the Everett Police Station (1903), the Spaulding School in Mansfield (1905), the Keaney Square Building at 249-267 Causeway Street in Boston (1906) and the Malden National Guard Armory (1907) (Mass. Hist. Commission). City of Boston building department records credit Charles H. Eastman as the architect of a house on Haverhill Street built for Willard Rice in 1894 (Fine Arts Dept.architect files, Boston Public Library).
By 1908 Charles Eastman had moved to Seattle, Washington, and was listed in that city's directory. According to the 1910 U.S. Census, Eastman was then a resident of Seattle, working as an architect and living with his wife, Mabel, whom he had married three years earlier (1910 Census). Eastman apparently practiced architecture on his own until about 1920 when he is listed as being in partnership as Eastman & Purvis (George B. Purvis). Eastman is last listed in the Seattle directory in 1921; it appears he left Seattle around 1921 or 1922 (Seattle Public Library). In 1930 the U.S. Census indicates that there was a Charles H. Eastman, retired, living in Santa Ana, California. It is not known if this is the same person. No other information has been found concerning Eastman.

Archaeological Significance
While the Coastal lowlands of southeastern Massachusetts and the Taunton River drainage are one of the better-documented areas of ancient Native American settlement in Massachusetts, most of our knowledge from those areas results from settlement clusters in immediate coastal areas and the main drainage of the Taunton River and its major tributaries. Less information is known for areas like the Spring Brook Cemetery, located in interior areas at the headwaters of the Taunton River drainage. Ancient sites located in the cemetery may contribute important information related to the use of the Rumford River ecozone by Native groups. Sites in this area may be characterized by short-term, limited diversity, temporary, special purpose-type sites that focused on the exploitation of floral and faunal resources, stone tool maintenance and other tasks directly related to subsistence activities. Larger base camp or village type-sites may not exist in the area. Given the above information any information from smaller type sites could be important since individually, these sites are rarely of National Register significance; however, collectively, they may contain, important information related to Native American settlement and subsistence patterns in the vicinity of interior tributary streams of the drainage.
Historic archaeological resources described above may contribute important information related to the history of education in Mansfield, the evolution and maintenance of the Spring Brook Cemetery, and the social cultural, and economic characteristics of the residents in the Spring Brook neighborhood and town of Mansfield during the 19th and 20th centuries.
Additional historical research combined with archaeological survey and testing may contribute important information related to when the Roland Green School was built, architectural characteristics of the school, facilities and activities at the school, and whether potential structural portions of the school, barns, and outbuildings survive with integrity. Detailed analysis of the contents of occupational-related features (trash pits privies, wells) may also contribute information related to the topics listed above and the social, cultural, and economic characteristics of the students that attended the school and their families.
Additional historical and archaeological research may also contribute important information related to the Spring Brook Cemetery. Historical research and archaeological testing may contribute important information related to the initial start and evolution of the cemetery during the 19th and 20th centuries and possibly earlier. Deed research and other documents may exist that document the start of a neighborhood cemetery in the early 19th century or possibly earlier. Unmarked graves may also exist containing artifact evidence that enable researchers to date specific burials, possibly representing earlier dates for the start of the cemetery. Similar research may also determine whether older graves that predate the known start of the cemetery represent an earlier family/neighborhood cemetery or commemorative graves. Earlier graves may not contain evidence of primary interments. Instead, these burials may be commemorative, containing evidence of secondary burials containing no human remains at all or partial remains relocated from other cemeteries.
The location and mapping of unmarked graves may contribute information relating to accurate boundaries of the cemetery and its subdivisions over time. Unmarked graves may help determine the temporal and geographical limits of early burials that may have started as a family or neighborhood burial ground. With 3,400 plots available, grave markers may have been lost or graves inaccurately located, indicating the potential for unmarked graves to accurately define burial patterns and cemetery boundaries virtually anywhere in the cemetery. Unmarked graves may also identify areas used to bury paupers, indigents, and unknown persons whose grave markers have deteriorated or were never marked.
Historical research and archaeological testing may also contribute important information associated with structures and occupational-related features used in mortuary and maintenance activities at the cemetery. Documentary and structural evidence may exist that identifies when the caretakers house, originally located near the Coral Street entrance, was built, its architectural characteristics, and the location and function of associated barns, outbuildings, and occupational-related features. Structural evidence from the caretaker's house may also determine whether it was burned, moved, or both.
Detailed analysis of the contents of occupational-related features may also contribute social, cultural, and economic information related to the caretaker and family members.
Historical research and archaeological testing may also identify the location and function of buildings related to mortuary and maintenance activities at the cemetery. Structural evidence and related artifacts from barns, stables, a carriage house, and hearse house may contribute evidence that describes the events leading to where burials were conducted and the regalia surrounding burials. Structural evidence from outbuildings and related artifacts may also contribute information related burial excavations and maintenance activities.

Osteological and material culture analysis of the contents from known and unknown burials may also contribute important information related to individuals and social groups within the Spring Brook neighborhood and Mansfield community. Osteological study of skeletal remains may contribute important evidence related to the physical characteristics and pathologies of specific individuals and groups within the community. The information described above and study of gravestones and artifacts associated with burials may contribute important information related to the social, cultural, and economic characteristics of various members and groups within the local and town population.